In 2015, the Honda Motor Company suspended the Honda Accord Hybrid for a redesign and overhaul that more or less coincided with the mid-cycle refresh of its gas-powered sibling. Now the tinkering is done, the wait is over, and the 2017 Honda Accord Hybrid is available to the San Antonio drivers served by Gillman Honda San Antonio. It returns from its hiatus fit, rested, and ready to impress.
2017 Honda Accord Hybrid Details
The 2017 Honda Accord Hybrid carries over some details from the "regular" 2017 Honda Accord Sedan in the form of a cosmetic update and some new technology. There are three trims available (Base, EX-L and Touring). The cosmetic differences aside, what's really important is that the powertrain has been redesigned. There's a new inline four-cylinder Atkinson Cycle engine and two high-torque electric motors. The engine can run apart from the electric motors, and vice versa. When the whole system is engaged, it delivers 212 net horsepower.
There's another important change in the form of the vehicle's battery pack. It's smaller and lighter than before. That means more trunk space (13.5 cubic feet), and when taken in tandem with the extensive use of aluminum, it also means a lower curb weight.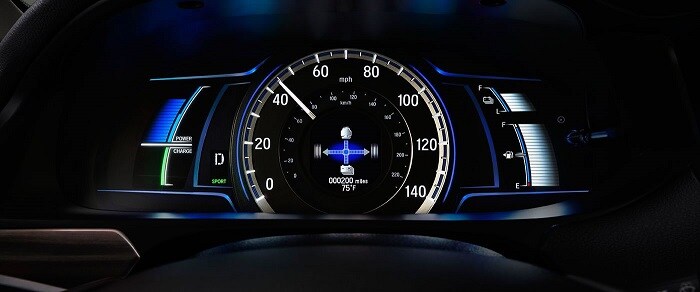 2017 Honda Accord Hybrid Safety and Special Features
Strong unibody construction and the inclusion of a laundry list of safety features like Honda Sensing™ Suite (which bundles lane departure and forward collision warning, adaptive cruise control, automatic emergency braking, road departure mitigation, and lane keep assist) makes the Honda Accord Hybrid a safe buy as well as a sensible one. The high-tech approach carries over to the car's cabin. You'll find HondaLink, which features Apple CarPlay and Android Auto compatibility. The Honda Display Audio system, like the one found in the traditional version of the Honda Accord, features two screens, one for the infotainment system, and another for text, phone, and navigation information along with input from the backup camera.
Buying a 2017 Honda Accord Hybrid
The last generation Honda Accord Hybrid was a mix of good and bad-- it got plenty of critical accolades, but it frustrated drivers because its small production numbers made it hard to get. Production capacity is being ramped up this time to ensure availability. Whether you're buying a hybrid for the fuel economy, the smaller environmental footprint, or as a hedge against gas prices rising again, you'll find a lot to like... and you'll find the 2017 Honda Accord Hybrid right here at Gillman Honda San Antonio. We serve San Antonio from our showroom at 16044 Interstate 35 North in Selma, TX, and we invite you to arrange a test drive today.
*Not all features available on all trims; speak to your Honda dealer for details.